Monday, March 09, 2020: Fidelity Bank Plc has reaffirmed its readiness to assist women entrepreneurs in the country take their businesses to the next levels of growth by making available to them, low-cost intervention funding and transactional platforms, and tailored business advisory and capacity building services.
The Managing Director/CEO, Fidelity Bank Plc, Nnamdi Okonkwo, disclosed this Friday at "Giving her Wings"; a platform to mentor, build and connect young women entrepreneurs with role models held at its Private Banking Office in Lagos. The event was organized as part of activities marking the 2020 International Women's Day.
He said the bank's long-running support for the growth and development of small businesses in Nigeria stems from its recognition of SMEs as critical agents of economic development and transformation in Nigeria and the world at large.
Whilst reiterating the bank's passion for women empowerment, Okonkwo stated that the bank has built structures/systems to channel low cost intervention funding to MSMEs including women entrepreneurs to tame the 'high-cost-of-funds' challenge currently plaguing the segment.
Okonkwo also revealed that as at February 2020, the bank had disbursed about N1.7 billion to SMEs from the SME on-lending line it obtained from the Bank of Industry (BOI). According to him, the bank also got a N28 billion on-lending line from the Development Bank of Nigeria (DBN) in 2018 for on-lending to MSMEs playing in critical sectors of the economy.
He said, "As at February 2020, about N18 billion has been disbursed to SMEs on the on-lending line from DBN and an additional N6.8 billion is already approved, awaiting completion of documentation by concerned customers."
Okonkwo also disclosed that the African Development Bank (AfDB) had approved a $50 million line of credit to Fidelity Bank Plc to support small and medium and women-owned enterprises in Nigeria. "Thirty percent of the line is dedicated to financing women-owned enterprises. We have also continued to expand the frontiers of funding for our SMEs through our Fidelity SME Funding event series which is packaged to focus totally and completely, on funding for SMEs through the provision of a platform for various categories of financiers to meet and engage SMEs amongst other things."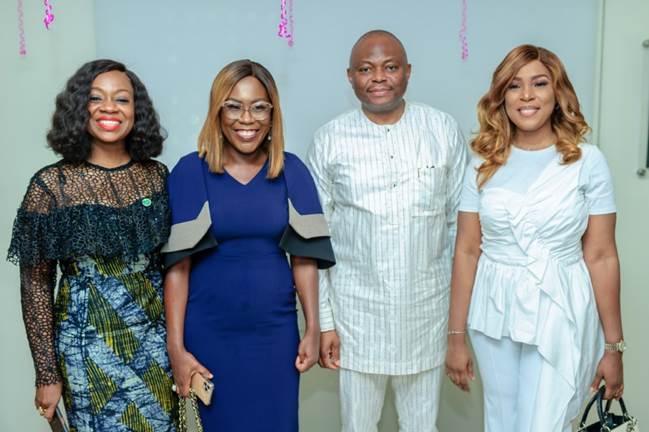 While speaking on Business Structure and Governance for small businesses, Founder, House of Tara International, Tara Fela-Durotoye, expressed concern about the dearth of thriving small businesses in Nigeria. Durotoye blamed the current development in part, on the lack of the requisite knowledge and experience on the part of several entrepreneurs, to the right business models cum structures and accompanying support systems and policies to adopt, to run their businesses successfully and sustainably.
She said, "Entrepreneurs today need to decide on businesses that would outlive them, enough to create an impact wherein by so doing, they are pulling people out of poverty. Only then would the international community stop looking at us as a country that cannot provide jobs for its people."
On her part, Chief Executive Officer, Linda Ikeji TV, Linda Ikeji, lauded Fidelity Bank Plc for organizing the women empowerment programme, explaining that more Nigerian women need platforms such as this to thrive and scale up their businesses.
"This is commendable and, as you know, I am passionate about entrepreneurship, especially when it comes to supporting women who want to learn and be motivated and inspired. It is commendable that Fidelity Bank found it necessary to put something like this together for female entrepreneurs with an invitation to myself and Tara to come in as mentors to them.
"Women need as many platforms like this as we can create and they need to start believing in themselves that they can achieve many things. I am happy that this happened. Another thing I would say is entrepreneurs, especially startups, need to innovate and weave their businesses around what people really need."
Fidelity Bank is a full-fledged commercial bank operating in Nigeria with over 5 million customers that are serviced across its 250 business offices and various digital banking channels. The bank focuses on select niche corporate banking sectors as well as micro, small and medium enterprises (MSMEs). It is currently driving its retail banking business through its robust digital banking channels.