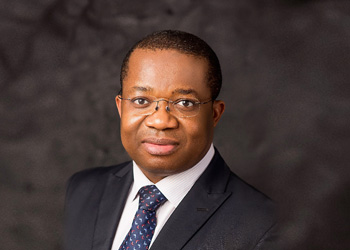 Chinedu Eric Okeke was appointed to the Board of Fidelity Bank as a Non-Executive Director in February 2021.  He currently serves as the Managing Director of Azura Power Holdings Limited.  Prior to joining Azura Power Holdings, he held high positions at GE Electric, both locally and internationally, such as Power Generation Products Sales Director, Sub-Saharan Africa, Commercial Leader, and West Africa Region Manager.
With over 15 years' experience across various roles in major organisations such as LaFarge, Schlumberger Oilfield Services, and Guinness Nigeria Plc., he has garnered broad international experience in blue chip companies.  He participated in the Canary Wharf Jog in aid of the British Heart Foundation and is also a Former Member of the Alumni Advisory Board, Imperial College Business School, London, UK.
He holds a Bachelor's degree in Electronic Engineering and an MBA from the University of Nigeria Nsukka and Imperial College Business School respectively.  He has attended other Executive programmes and trainings at Stanford University, Gordon Institute of Business, and Georgia Institute of Technology.