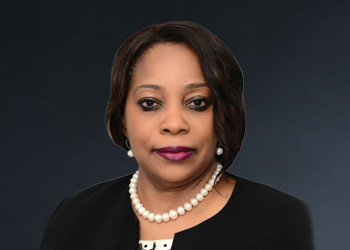 Mrs. Amaka Onwughalu was appointed to the Board of Fidelity Bank as a Non-Executive Director, effective January 1, 2021. She is currently the Chief Executive Officer of Blueshield Financial Services Limited. Prior to this, she served in executive management positions in different institutions and was the former Group Managing Director of legacy Mainstreet Bank Limited where she led the successful execution of a seamless integration of the bank with Skye Bank Plc where she served as Deputy Managing Director until her retirement in July 2016.
Mrs. Onwughalu has over 30 years' banking experience including over 10 years in Executive Management in various financial institutions, with proven expertise across diverse segments including Commercial Banking, Retail Banking, Treasury Management, Banking Operations and Corporate Banking.
She holds a Bachelor's degree in Economics from the University of Buckingham, an MSc in Corporate Governance from Leeds Metropolitan University, United Kingdom and an MBA from the University of Port Harcourt, Nigeria. She gained further exposure and training at the Executive Business School, INSEAD, France; IMD Business School, Lausanne, Switzerland; Judge Business School, University of Cambridge; and Columbia Business School, USA. She is a Senior Fellow of the Institute of Internal Auditors of Nigeria; a Fellow of the Institute of Credit Administration (ICA); a Member of the Nigeria Institute of Management (NIM); an Honorary Member of the Chartered Institute of Bankers of Nigeria (CIBN); and a Fellow of the Institute of Directors (IoD).
She is passionate about mentoring the Girl Child and committed to supporting women entrepreneurs/professionals to contribute their quota to stimulating economic development in Nigeria. She is a Paul Harris Fellow and recipient of various prestigious awards including the National Merit Award for Accountability and Transparency (NMAT), the Award of Excellence and Distinction for Financial Management (AEDFM) and the Vocational Service Award (VSA) from the Rotary Club, Enugu.